Connie Jacobs, DARPA SBIR Program Manager, has been an important, influential and dedicated SBIR presence since the earliest days of the program. As the longest serving program manager in the history of the SBIR, Ms. Jacobs' contributions to SBIR created a near perfect balance of championing the program and small businesses while serving the needs and interests of DARPA and the DoD.
After 40+ years of federal government service, the ever youthful and energetic Jacobs has announced her retirement effective February 2008.
Ms. Jacobs was a leading supporter of SBIR outreach to small businesses, state agencies and universities. When sold on the merits of an outreach event or SBIR promotion, she was always one of the first to enlist agency support. In the face of agency reluctance to support an outreach initiative, few SBIR program managers had Jacobs' "power of persuasion" to get their agency to come around and support the project.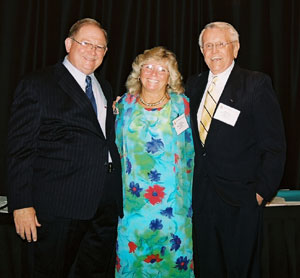 Connie Jacobs accepting a special Milt Stewart / Tibbetts Award from Jere Glover [left] and Roland Tibbetts [2007]
When SBA budget cuts forced a several year suspension of the SBIR Tibbetts Awards of Excellence program, Jacobs was one of the first SBIR agency representatives to support the revitalization of the program, even though it had to be done outside of the SBA. She was also the co-chair for the very first DoD commercialization conference, Beyond Phase II in 2005.
Connie Jacobs was also active in her agency's office of Small and Disadvantaged Business Utilization (SADBU), now called the Office of Small Business Programs (OSBP). As DARPA's SADBU deputy director, she conducted SBIR and Small Business Technology Transfer (STTR) training sessions for Historically Black Colleges and Minority Institutes (HBCU/MI's).
Ms. Jacobs was also one of the few SBIR officials to be equally fluent in the field of federal technology transfer. As DARPA's Industrial Liaison Officer, she was responsible for the Domestic Technology Transfer Program and Unsolicited Proposals.
For decades she was an important participant in the Federal Laboratory Consortium for Technology Transfer (FLC) in the unique dual role of being an agency representative as well as a laboratory representative.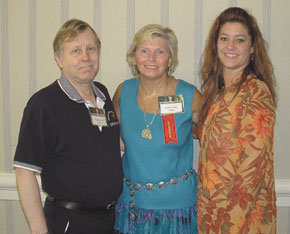 Connie Jacobs [center] and Frank Rucky, co-chairs of the first DoD Commercialization Conference, with meeting planner, Virginia Hoover [2005]
During her illustrious career, Connie Jacobs was the quintessential SBIR spiritual motivator and will be missed. She knows how to live life to the fullest and is looking forward to retirement. To the many she has touched, the mention of her name will bring a smile to their face.
The SBIR Gateway is pleased to name Connie Jacobs, SBIR Person of the Year 2007!









Copyright © 2008 Zyn Systems. All rights reserved.