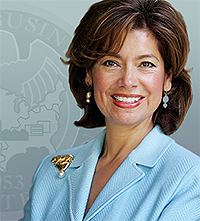 Maria Contreras-Sweet


In context of the many programs and services the Small Business Administration (SBA) manages for small businesses, SBIR is so small that it is barely a blip on the SBA radar screen. Over the years most SBA Administrators have given polite but measured support for the program. SBIR advocates would often have to fight to try and get the Administrator's attention to insure SBIR got its fair share of attention and resources from SBA in order for them to lead the program.

In April of 2014 that all changed as Maria Contreras-Sweet was appointed by President Barack Obama (and confirmed by the Senate) to become the 24th SBA Administrator, and she wasted no time getting familiar with the SBA's many programs, including SBIR.

Struggling with lack of resources due in part to sequestration, Contreras-Sweet found a way to make sure that some additional funding went to supporting the SBIR program.

What clearly set Administrator Contreras-Sweet apart from previous administrators is that she became a big time SBIR emissary, the likes of which had not been seen before. While touring the country speaking out for small business, she usually found a way to bring SBIR into the mix, in an interesting way and to diverse audiences.

Ms. Contreras-Sweet would also attend SBIR events, not just the big ones, but smaller ones sponsored by the smaller agencies. Her presence meant so much to SBIR companies displaying their STEM and educational wares at ED Games Day in Washington, D.C. She spent considerable time visiting the small SBIR businesses, viewing demos and listening to the stories of these talented SBIR women game developers. She also complimented and encouraged the SBIR program mangers there such as Ed Metz (Dept of Ed) and Charles Cleeland (USDA).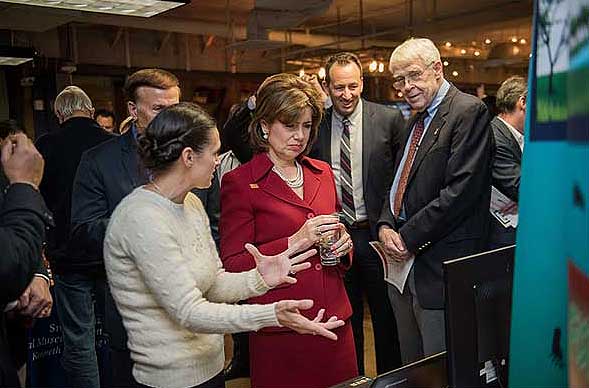 from left: Maria Ortiz Burns, 7 Generation Games; Maria Contreras-Sweet, SBA
Ed Metz, Dept of Ed; Charles Cleeland, USDA


In non-SBIR settings Ms. Contreras-Sweet would often highlight SBIR as "One of the five great Under-the-Radar SBA offerings." It could be on network or cable TV, a Trade Export Conference in Tacoma, WA, a Global Entrepreneurship Conference at MIT, or even a presentation in Washington DC to the Council on Foreign Relations! SBIR was there.

Contreras-Sweet also knew her way around Capitol Hill and the politicos she had to deal with in the committees. Even there, she would often refer to and promote the SBIR program and its success. That's just scratching the surface.

For her work, passion, dedication, and promotion of the SBIR/STTR programs, Maria Contreras-Sweet is the SBIR Person of the Year for 2016.




Copyright © 2016 Zyn Systems. All rights reserved.