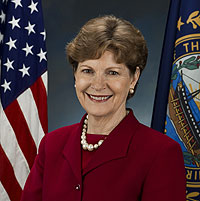 Senator Jeanne Shaheen


Although the SBIR/STTR program is very important and substantive to our country, it is not well known to new people on the Hill. Consequently SBIR often receives the "short shrift" after major elections when a new administration, congress, and agency leadership take the reins of government.

Senator Jeanne Shaheen (D-NH), a long time SBIR supporter, immediately went to work to insure that new members of the Senate, as well as nominees for related agency leadership, understood that SBIR is an essential and valuable program for innovative small businesses and the country.

As ranking member of the Senate Committee on Small Business and Entrepreneurship (SBE), and a member of the Senate Armed Services Committee (SASC), Shaheen worked tirelessly throughout the year in support of SBIR and small business.

This included efforts by Shaheen to educate and show support for SBIR to new members of the administration in various Senate hearings such as nomination hearings for Linda McMahon to become Administrator of Small Business Administration (SBA), for Mick Mulvaney to become Director of the Office of Management and Budget (OMB), and also with Ellen Lord, Undersecretary of Defense for Acquisition, on how the SBIR program plays a vital role getting innovation to our war fighters.

Senator Shaheen talking about SBIR in a Senate Armed Services Hearing


In May after hearing from many small businesses and the Small Business Technology Council (SBTC) about the Department of Energy making a unilateral decision to indefinitely delay their SBIR/STTR program, Shaheen along with Senator Maria Cantwell (D-WA) sent a letter to the Secretary of Energy demanding an explanation. Shortly thereafter, the DOE resumed their SBIR program.

Senator Shaheen has been an enthusiastic supporter of SBIR ever since she joined the Senate SBE in January of 2009. As a former governor of a rural state, much was expected, and much was delivered. Of course it helps if you have a good staff, and Shaheen has an excellent staff that includes Ms. Kevin Wheeler, SBIR Person of the Year in 2008.

Although Shaheen is a committed democrat, her experience and ability to work across the aisle has made her an effective presence regardless of which party was in power. As ranking member of the SBE, she was an important voice in helping to get SBIR reauthorization last year working with the former SBE Chair David Vitter (R-LA). She continues as ranking member and works closely with current SBE Chair James Risch (R-ID). Shaheen is also a valued member of the Senate Armed Services Committee, which is also a very important and powerful committee with SBIR oversight.

For all her hard work, dedication, promotion and support of the SBIR/STTR programs, Senator Jeanne Shaheen is the SBIR Person of the Year for 2017.




Copyright © 2017 Zyn Systems. All rights reserved.