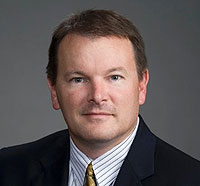 Craig Owens

How do you bring large defense contractors and small businesses together? In the complex environment of DoD SBIR, small businesses who win DoD SBIR awards often have to integrate their developments to work on weapons platforms that were designed by large DoD prime contractors. Bringing these two worlds of Primes and Small Businesses together has always been deeply challenging.

In facing this challenge, nobody is more dedicated, harder working or more successful at bringing these two worlds together than Mr. Craig Owens, SBIR Program Manager at Lockheed Martin Aeronautics.

Much of Owen's efforts are targeted at newer companies that have great technical resources and potential, but no idea of how to work with DoD prime contractors in bringing innovation to the war fighter. As a result of SBIR success, Lockheed, as well as other primes have learned how valuable small business and SBIR program involvement can be to their efforts, products and bottom line.

Mr. Owens played an active role in every major SBIR outreach event, as well as many regional, state and local events where there were opportunities for Lockheed to partner with small businesses in SBIR. The SBIR community always knew that Craig would try his best to assist in the success of the program, and Lockheed gained stature for allowing him and other staffers to participate.

His unique style is to speak friendly, but frankly and honestly giving the small businesses pointers on how to identify and approach the relevant points of contact at Lockheed as well as other primes. Owens stresses they should do their homework before meeting the representatives, and this includes understanding that a project must be positive for the DoD, the small business, as well as the prime.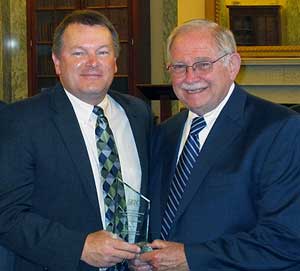 Craig Owens receives 2018 Champion of Small Business Technology Commercialization Award from Jere Glover, SBTC Executive Director

Owens also works with many state technology outreach organizations from the SBA's Federal and State Technology Partnerships program (FAST). His efforts range from train the trainers to outreach and guidance to talented but underserved small businesses such as woman owned, 8(a) minority owned, veteran owned and others.
In formulating how his outreach could help SBIR companies, Owens helped design the "Prime Process" of early engagement on Phase I proposals by serving as the focal point for SBIR companies to request a letter of support from Lockheed. This resulted in over 300 letters of support to SBIR companies seeking to win a phase I award.
Under Craig's Owens' leadership, much of the DoD SBIR community refer to his Lockheed program and team as the "gold standard" for Prime Contractor SBIR engagement, and the Small Business Technology Council (SBTC) presented him with a 2018 Champion of Small Business Technology Commercialization Award (see SBTC.org)
In recognition of his exemplary hard work, dedication and vision, Mr. Craig Owens of Lockheed Martin Aeronautics is the SBIR Person of the Year for 2018




Copyright © 2018 Zyn Systems. All rights reserved.